Last updated on January 15, 2023
Sometimes you feel like you do not have any cooking skills when the reality is that you are just a little confused.
It happens when you cook pearl couscous (one of the simplest ingredients to cook). No matter how many times you have made this ingredient, it always ends up overcooked or undercooked. The texture is too chewy or too dry.
You feel even worse when people say that is a piece of cake. "Add water and salt to it, boil it and that is it" is some advice you have surely heard more than once.
Instead of thinking you do not know how to cook, there is perhaps something you are not getting right. Here you can find the clues for improving your cooking techniques when cooking this versatile staple.
In This Post
Cooking Methods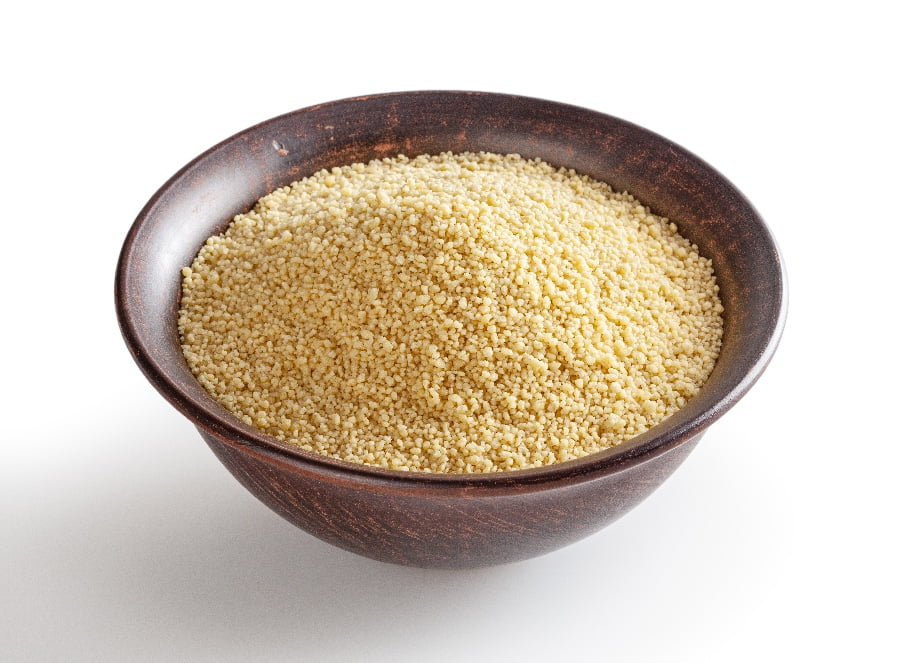 Water and salt are indeed the main ingredients for cooking plain pearl couscous. It is a simple procedure when it cooks in boiling water until it gets the right texture.
What is the right texture? How much water and salt? Have you ever thought of these issues? It may not it is why you are cooking pearl couscous the wrong way.
You need to know there are various ways of cooking pearl couscous. It indeed needs water and salt, but the quantity of water, the method, and the time greatly differ.
There are two classic ways of cooking couscous:
Add enough water to a pot and boil. Then, add salt and couscous and cook until it is tender. Drain the excess water and let it stand for 10 minutes.
Add the proper ratio of water and couscous to a pot and a pinch of salt. When it boils, reduce the heat, cover, and cook slowly for 10 minutes.
In the first method, you must check the pearl couscous texture before draining it. It has to be al dente like most pasta dishes. You do not have to measure the water precisely.
The second method involves measuring exactly the water and pearl couscous to get the perfect texture.
Water Ratio
To get a perfect dish, you need to use the correct amount of water to the ingredient ratio, in other words, the proper quantity of water and the ingredient.
The best results are achieved when the couscous water ratio is 1:1 ½. This means that for 1 cup of pearl couscous you should add 1 ½ cups of water. If you need to prepare more, 2 cups of pearl couscous to 3 cups of water, and so on.
Time
The time for cooking is essential as well. Cooking pearl couscous is pretty easy and fast. It will not take more than 15 minutes to prepare a plain bowl of couscous. If the preparation includes other ingredients like meat or vegetables, it will take a bit longer.
Toasting
You can cook pearl couscous most simply just by adding water and salt.
For a crunchy rather sticky texture, toast the pearls in butter or olive oil before pouring in the water. It is ideal for a full meal or salad.
Broth
If you want to add a stronger flavor to pearl couscous, instead of water, cook it in broth. Depending on the dish, you can use vegetable, meat, or chicken broth.
Cooking a Perfect Pearl Couscous Dish
These tips will help you to trust in your cooking abilities. If you think you are not a good cook it is usually due to not knowing or misunderstanding some simple basic rules.
Once you master the techniques for making plain pearl couscous, you can show all your potential by making delicious and varied pearl couscous dishes like the following.
Pesto Pearl Couscous Salad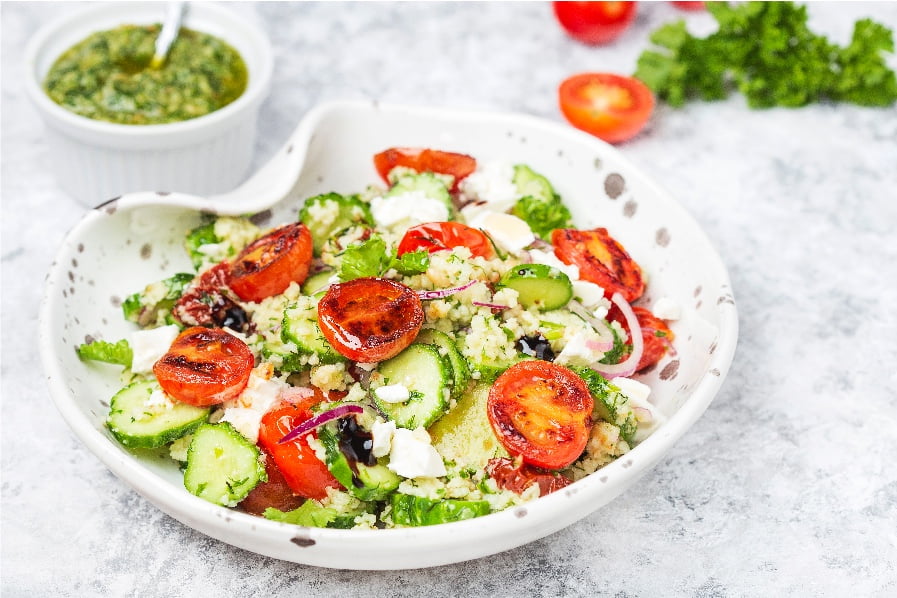 Ingredients (4 servings):
2 tablespoons of extra virgin olive oil.
1 cup of pearl couscous.
1 ½ cups of water.
Salt and ground black pepper to taste.
2 halved grape tomatoes.
1 cup sugar snap peas (halved)
1/2 cup of basil pesto.
Lime juice to taste.
Preparation:
In a saucepan, pour extra virgin oil and heat at medium temperature. Add pearl couscous and toast until it gets golden brown.
Pour the water and a pinch of salt. Mix and cook until it is boiling.
Reduce heat to low and cover with a lid.
Cook for 12 minutes. Let it cool.
In a bowl, incorporate grape tomatoes, basil pesto, pearl couscous, salt, ground black pepper, and lime juice. Stir very well.
Serve with your preferred meat.
Continue reading: