Last updated on December 22, 2022
White rice, as we know it today originated in Southeast Asia where it has been cultivated for more than 7000 years by farmers in India and China. From these two countries, thanks to trade exchanges and European colonization, this cereal was spread all over the world.
In This Post
Properties of White Rice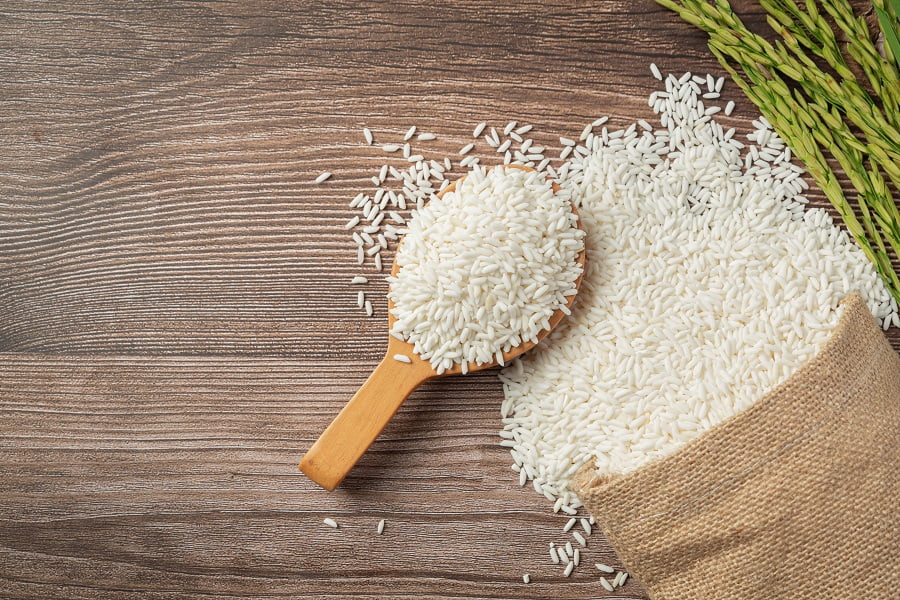 White rice is one of the main sources of calories for the world population that consumes it as food on a daily basis. Get some extra information about white rice nutrition and learn more about this topic.
How to Make a Perfect White Rice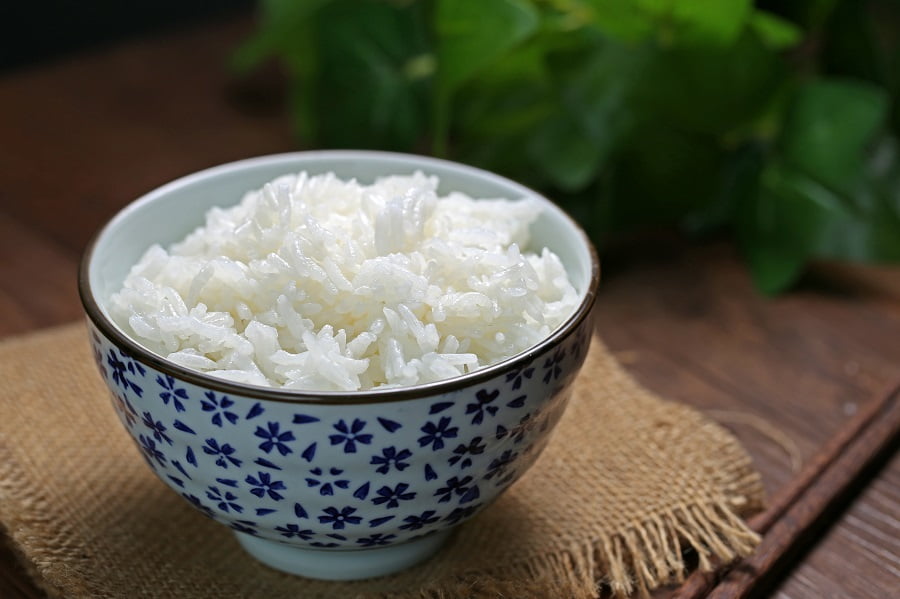 Ingredients
Carolina® White Rice.
2 tablespoons of oil per cup of rice.
1 cup of round grain white rice.
2 and a half cups of water.
1 tsp. of salt.

The white rice that accompanies some fried eggs or serves later for a rice salad. There are two ways to cook it. It depends a little on how you want the grain to be, if a little caked or loose. With any of the two methods you will have an excellent white rice, with a perfect grain and in its point.
Cooking White Rice to Make It Compact
Add two tablespoons of oil for each cup of rice that you are going to use. The oil is the ingredient that will help to prevent the rice from sticking.
Heat the pan and pour the oil. As soon as you see that it is hot, add the rice and stir for about a minute over medium heat to toast the rice.
Pour 2 and a half cups of water for each cup of rice, leave over high heat for 4 minutes until it gets very hot and starts to gush. Add salt and then lower to medium heat for about 12 minutes with the lid on the pan.
When you see that there is almost no water and there are small holes between the grains of rice, lower the temperature to the minimum or simply turn off the heat.
Let it rest with the lid on or with a cotton cloth for about 5 minutes. While it rests, the rice will absorb the rest of the water and it should be ready and the grains separated. You can test the rice while it is resting to see how it is turning out. I like it to be a little hard.
Cooking White Rice to Make It Loose
Wash the amount of rice that you are going to use to remove starch. You can do it in a big bowl or directly in a colander, with two or three times is more than enough. If you do not wash all that starch that the grains of rice have adhered, in the cooking (and without toasting the rice), it would have thickened too much and it is very sticky.
Heat the casserole with water over high heat, add the rice, salt and the oil, all together. When it starts to boil, let the rice boil for about 4 minutes until the water evaporates.
When you see that there are no bubbles of water on the surface of the rice, lower the heat to 1/4 of the max temperature, and cover the casserole.
Let it simmer for 14 minutes. It would not need more time because after the washing the grain has already softened slightly. You can always test it to see if it is al dente and if not, leave it a couple of extra minutes.
Uncover and taste the rice, it should be almost ready. Turn off the heat and let it rest with the lid on or a cotton cloth for 2 minutes.
Easy White Rice Salad Recipe (and Very Fast)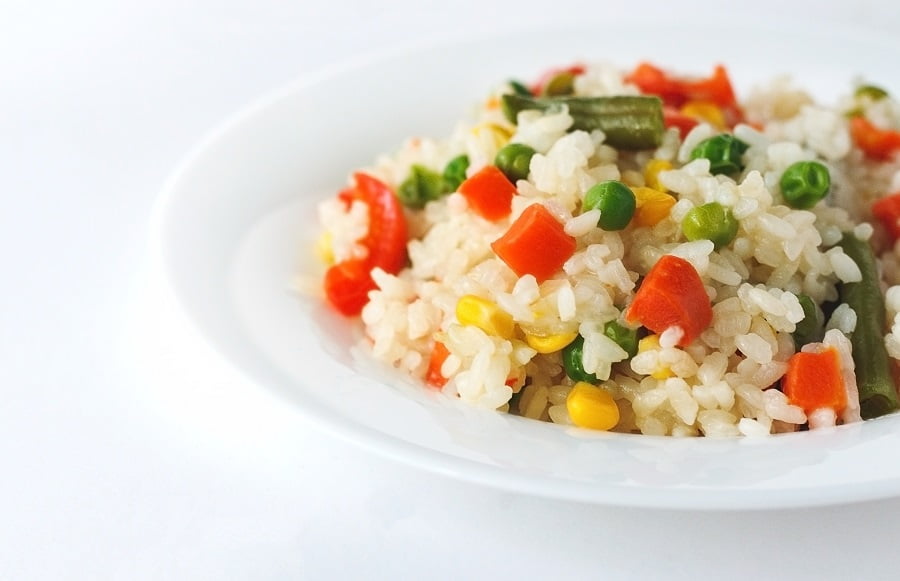 Ingredients
10 oz (300 g) of rice.
½ onion, finely chopped.
1 garlic clove.
2 diced carrots.
½ red bell pepper.
Cherry tomatoes.
5 oz (150 g) frozen peas.
5 oz (150 g) of corn kernels.
Ham and cheese for minced meat (optional).
1 broth.
20 fl oz (600 m) boiling water.
Olive oil.
Salt to taste.
How to Make This Salad in Only 5 Steps
In a large pot, heat the oil and add the onion and chopped garlic, cook until transparent. Add the carrot and paprika. Cook for 5 minutes.
Add the rice and stir until the rice grains are white.
Dissolve a stock in boiling water and add it to the pot. Cook until boiling.
Finally, add the corn and peas.
Lower the heat, cover and cook for 8 to 10 minutes. After this time, turn off the heat and let it stand for 3 minutes. Add the cherry tomatoes and olives, half or whole, optionally chop a little ham and cheese to give it another aspect. Stir everything together and serve.
Tip: to add more flavor to this salad: mix olive oil together with soy sauce, chopped garlic, salt and pepper in a container with a lid. Shake it until it is completely mixed, put it on top of the salad and stir it so that it is evenly distributed and absorbed by the rice.
Continue reading: