Last updated on April 30, 2019
Up for a little challenge? Make a dinner meal for two using one chicken breast! Here are 20 easy ways to do it.
Whether you're budgeting or have one chicken breast left in the fridge, you can use it to make the perfect dinner for two. All you have to do is stretch it a little. There are many ways to make that chicken count in a recipe and most including making use of other ingredients. We believe that anything is possible if you use a little creativity and it's very fun.
Below are 20 recipes which can be used to cook one chicken breast for a dinner meal. Not all of them are specific to using just one breast, but we have picked the recipes which can be easily modified to meet the requirement of the challenge. In these cases, don't be afraid to experiment. Enjoy!
In This Post
Chicken Souvlaki Skewers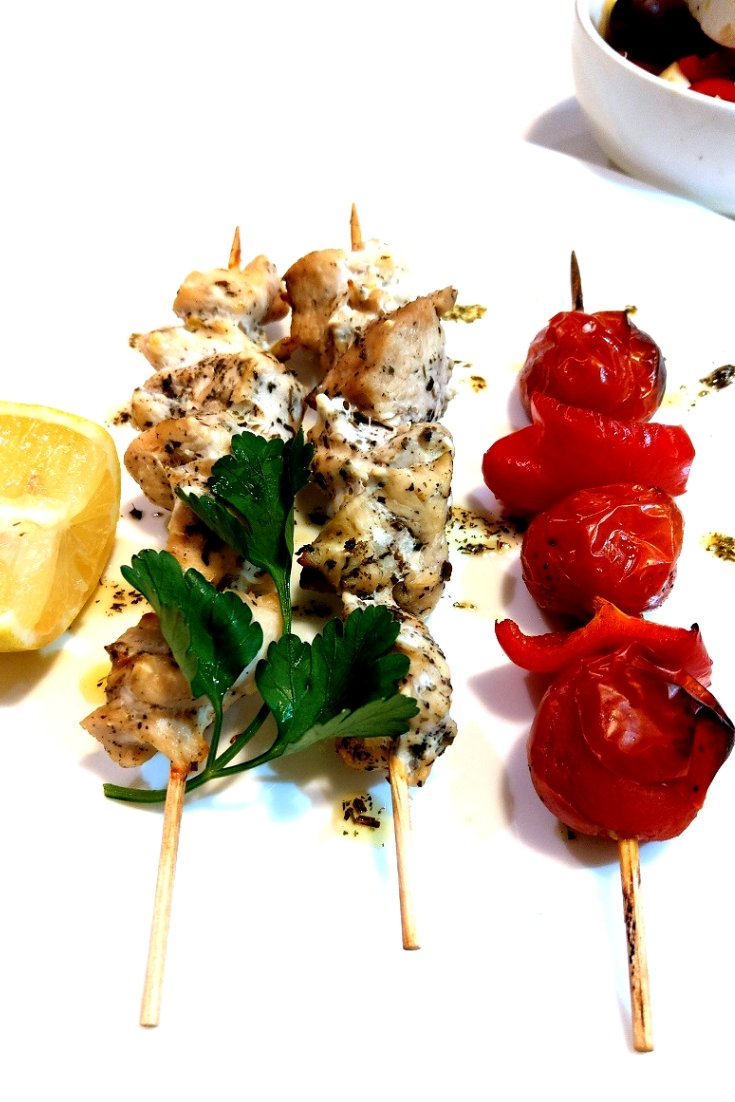 The traditional Greek chicken Souvlaki skewers make cooking one chicken breast a fun experience. The secret is in the marinade so pay attention to that, and you're good. You can make as many skewers as you need for your dinner for two.
Creamy Chicken Quinoa and Broccoli Casserole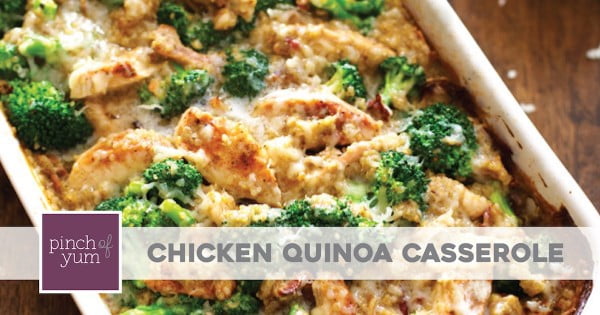 Love casserole dishes? It's a great comfort food that always fills you up. This chicken quinoa casserole does even more. When it comes to comfort food, it is packed will a lot of healthy ingredients that make this meal almost healthy and filling.
When it comes to how much chicken you should use for this recipe, it's entirely up to you. This recipe will work well with a one chicken breast challenge.
Tomato Basil Chicken Fettuccine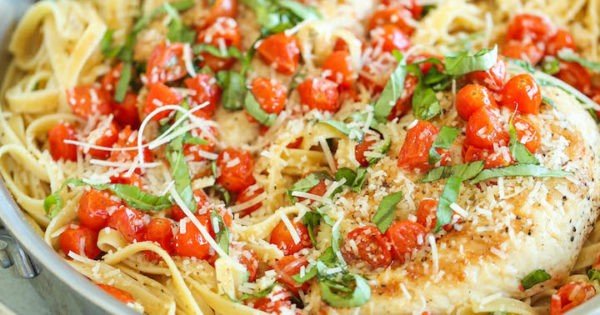 What a great way to quickly fill up your stomach with Italian cuisine goodness. This pasta recipe is easy to make, it's very flexible, and you can get away using just one chicken breast to prepare it. It's an easy modification that doesn't take away anything from the taste of the meal.
Chicken Zoodle Soup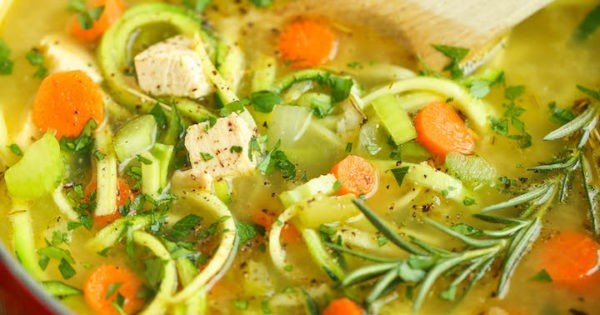 A healthy soup is always comforting and good for you at the same time. And you can make this delicious soup easily and using only one chicken breast. Choose zucchini noodles to turn the classic comfort soup into a nutrient loaded healthy meal.
Asian Lemon Chicken Tenders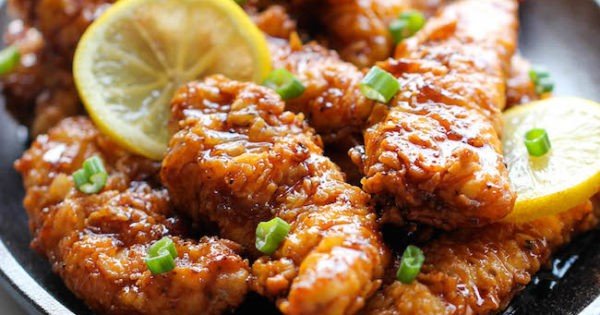 How do you stretch one chicken breast for the whole dinner? This Asian-inspired recipe might be one answer. You pack the chicken strips with tons of flavor and a fantastic lemon glaze. These will last longer than you might think!
Brothy Chicken with Ginger and Bok Choy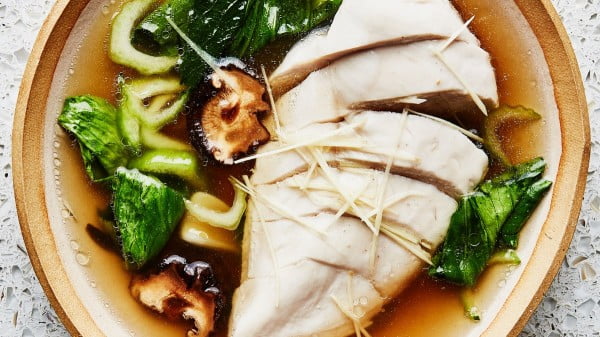 Another Chinese-inspired meal that will make your chicken breast count. It is quite healthy too since you're making a broth that consists mainly of veggies. At the same time, it's a flavor-rich dinner meal. You can easily prep it using just one chicken breast.
Chicken and Green Bean Stir-Fry
A stir-fry is a great way to cook chicken. For one, it allows you to add in tons of other ingredients for a full meal. And it is delicious. You can stir-fry as much chicken you have and serve it with rice to be filling. It's a great tasty recipe for two.
Broiled Chicken Tenders with Pineapple Relish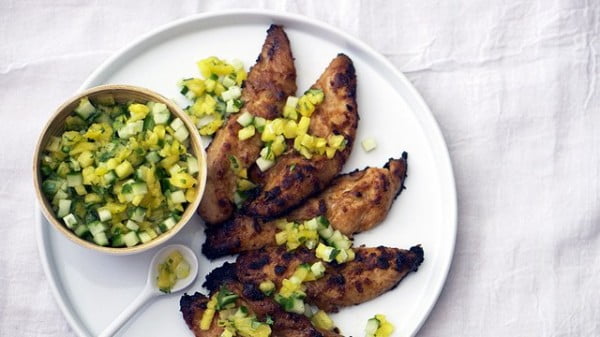 Cut the chicken in strips to get these delicious tenders broiled and served with pineapple relish. It's an easy recipe, but it's packed with a lot of flavors. You will love this Asian-inspired dish, and your spouse will love it too.
Mongolian Chicken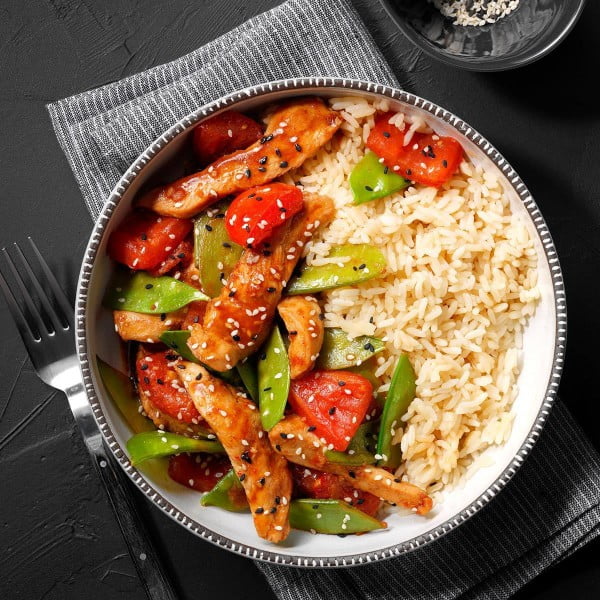 Tired of the same old chicken breast recipes? Make it count this time. This Mongolian-inspired recipe will give you a new way to cook chicken. And it's delicious too.
Chicken Caesar Pizza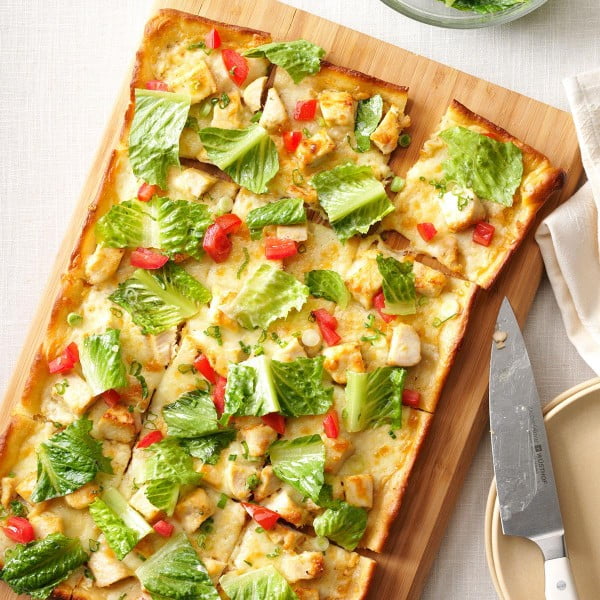 So what do you do when you have a small amount of chicken? You make a pizza. It's a great go-to recipe to have as you can use any amount of the chicken and still make a full meal. With fresh greens, this version of pizza is even good for you.
Puff Pastry Chicken Potpie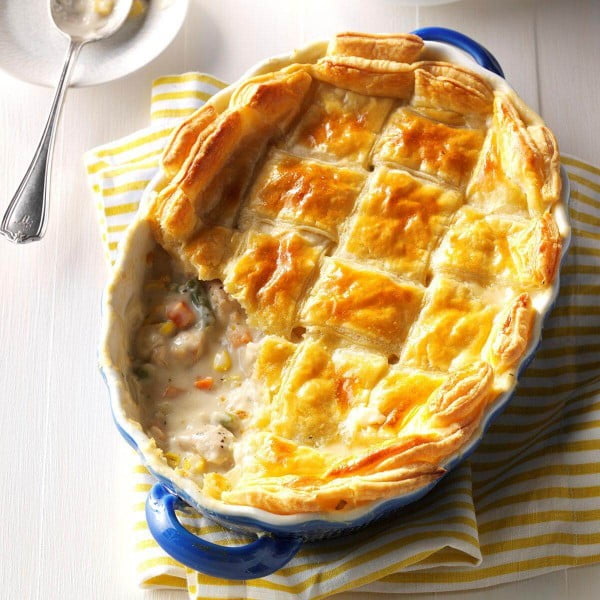 When you or your spouse have that craving for comfort food, this chicken potpie will make a great recipe. Especially if you have just one chicken breast to make it. The recipe can be easily modified for that. And it will lose none of the delicious flavors.
Chicken Chardon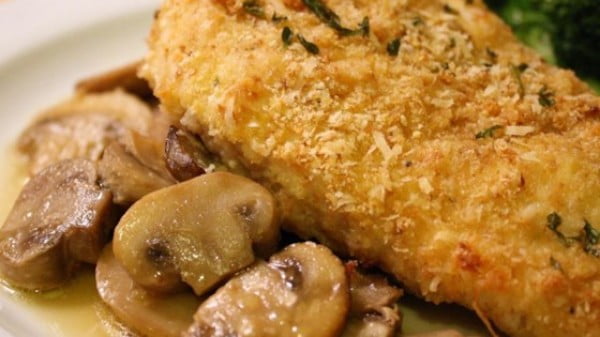 This is one of those recipes that look like it's been passed from generation to generation. But no-one will ever know you've found it online. It's easy and flexible in that you can make as much of it as you want. Even if you have one chicken breast to use.
Chicken Marsala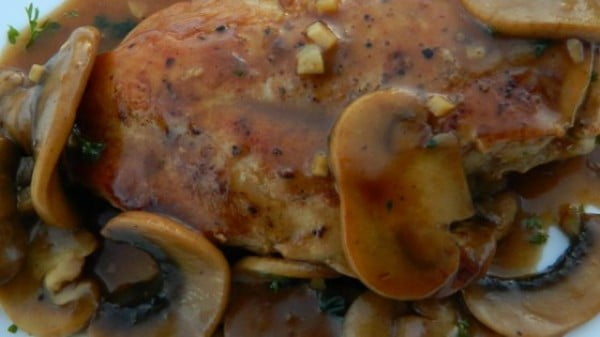 This American-Italian dish is one for the perfect dinner. It will pack tons of rich flavor even if you use just one chicken breast to make it. And you can do that! It's a great way to cook the dish for two.
Baked Paprika-Parmesan Chicken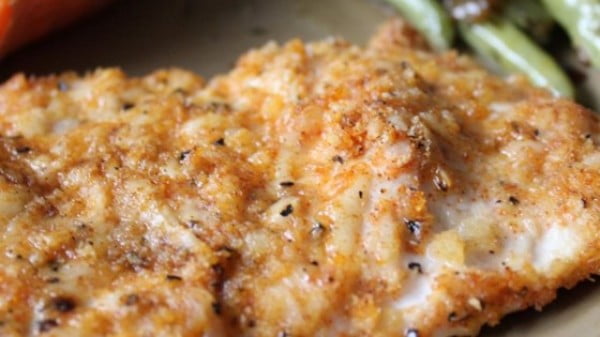 Give your chicken more flavor with this Parmesan and Paprika coating recipe. It makes a unique flavor combination that everyone will like. And it's straightforward to make, especially form one chicken breast.
Stuffed Chicken Divan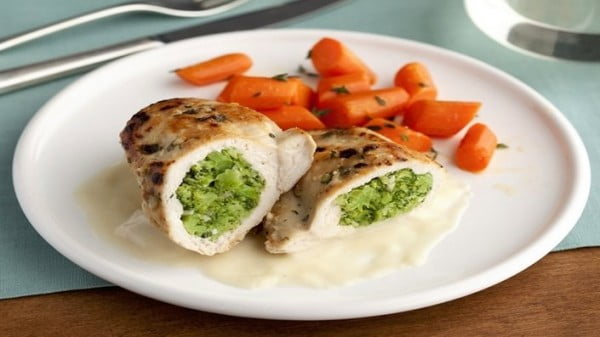 If you want to stretch a chicken breast for a full dinner meal, stuffing it is a great way to accomplish it. This recipe gives you a delicious idea for it. And it comes with the perfect accompanying Sherry Dijon sauce.
Oven Baked Chicken Breast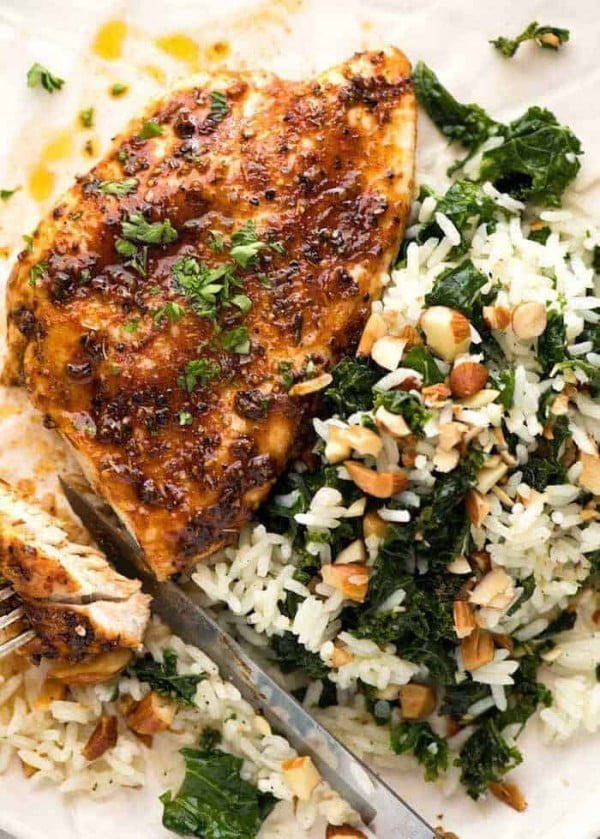 Baking chicken in the oven is one of the easiest ways to cook it. It's also one of the easiest ways to overcook it dry. This recipe gives you a great way to season and prep the chicken breast and eliminates that risk. It's simple, easy and a delicious recipe you can make for two.
Chicken Mascarpone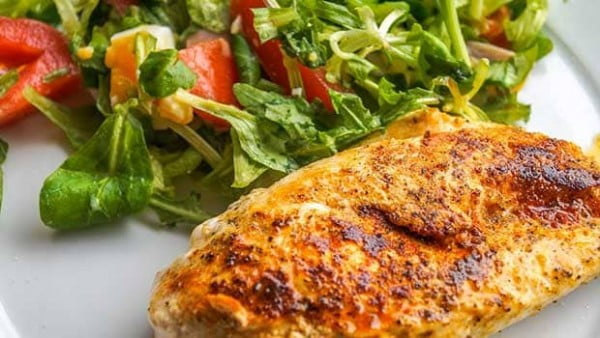 Another great recipe to stuff a chicken breast is none other than Mascarpone. The cheesy filling gives the chicken a unique and flavor-rich juicy taste. That's just what you need to cook a chicken breast for two.
Caribbean Chicken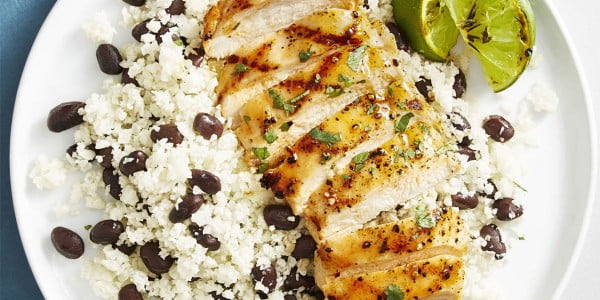 Here's another very healthy chicken breast recipe version. Instead of rice, it uses cauliflower to make it even healthier and low-calory meal. And it's delicious at the same time.
Peanut Chicken Tacos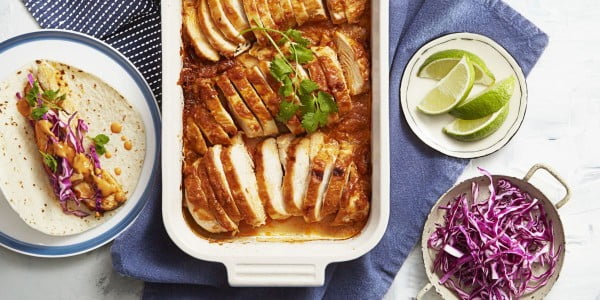 Make chicken tacos even more interesting by adding peanut butter. It's an Asian-inspired addition that builds up the flavor nicely.
Chicken With Bacon and Pepper Jack Cheese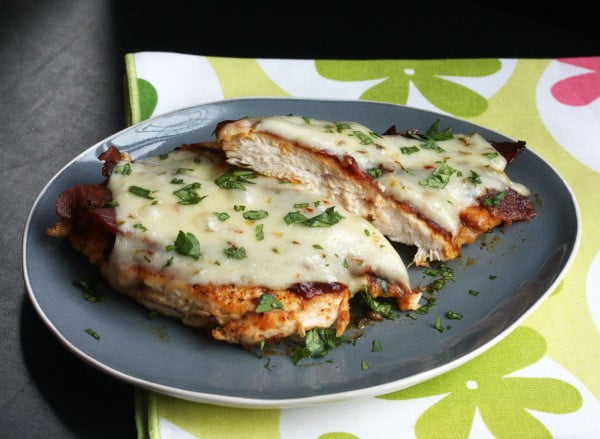 A delicious way to cook the chicken breast is to brown and bake it. This recipe gives you a terrific option with bacon and Pepper Jack cheese topping. Enjoy!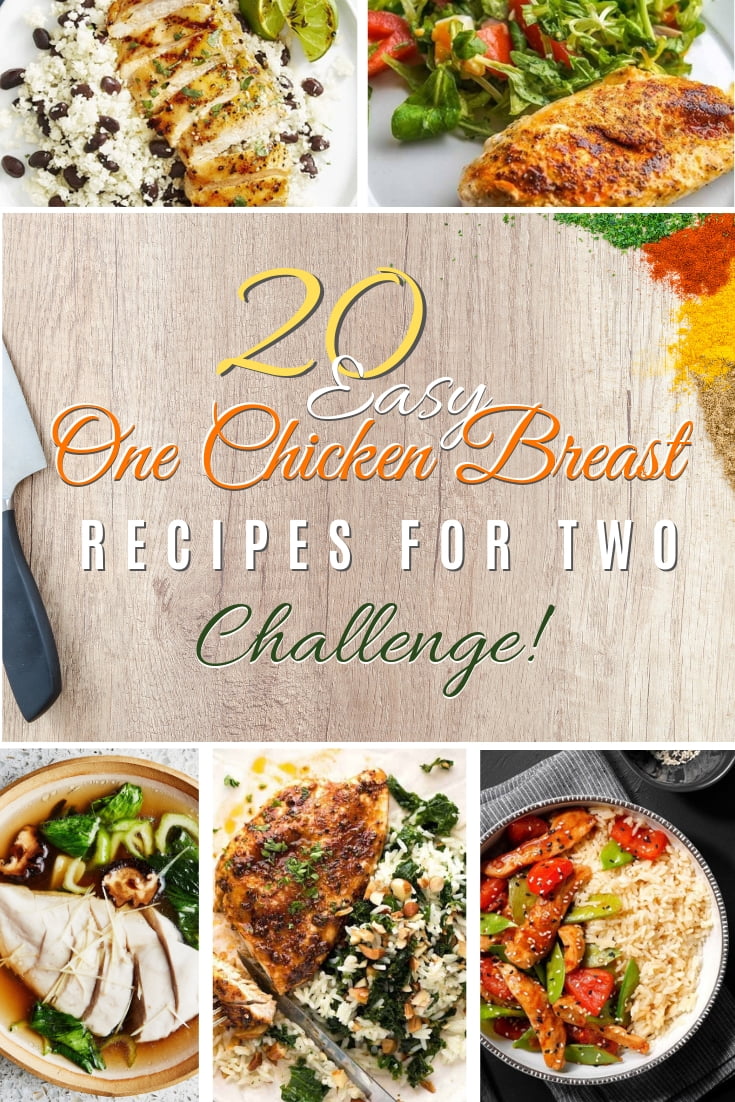 Continue reading: