Last updated on April 23, 2019
Who doesn't like a healthy delicious salad for lunch to boost your energy levels? Here are 24 amazing recipes to try!
A salad done right can be a delicious and filling meal that's also good for you. Find your favorite combination of ingredients, and you will never go short on go-to salad recipes anytime you need that boost in energy. So check out these great recipes for a healthy delicious salad and pick your favorites. Enjoy!
In This Post
Southwestern Chicken Salad with Creamy Cilantro Dressing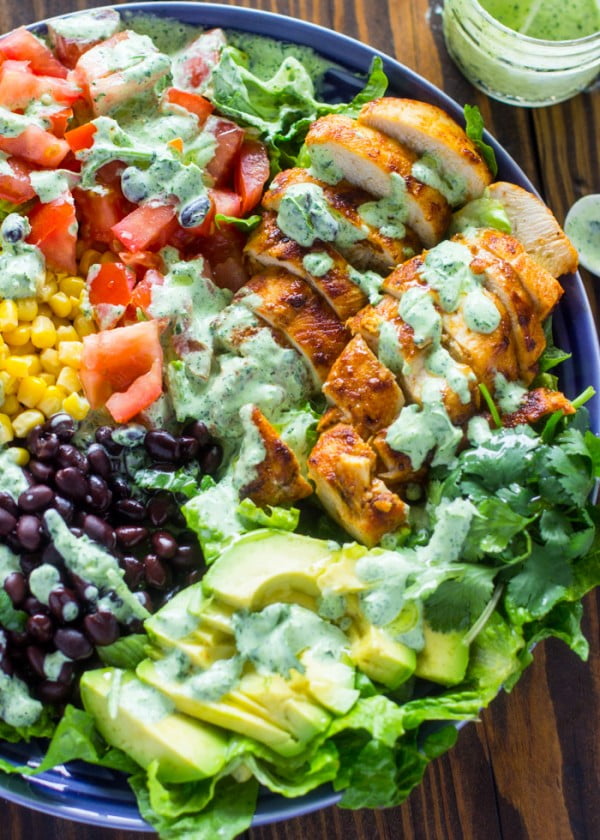 Southwestern chicken salad with creamy cilantro dressing is 1000x more delicious, fresher, and healthier than any restaurant salad at a fraction of the price.
Salmon Cakes with Quinoa Salad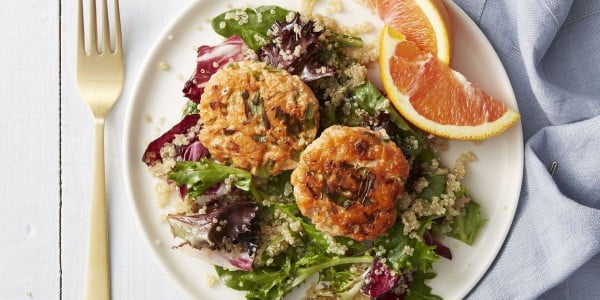 Check out a fantastic recipe for salmon cakes with quinoa salad that's fresh and filling. See this link for the complete cooking instructions.
Thai Steak and Pear Salad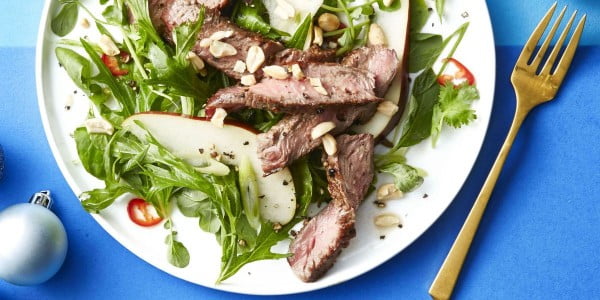 This is a delicious Thai steak and pear salad. This low-calorie dinner only takes 20 minutes to throw together. See this article for the complete cooking instructions.
Healthy Egg Salad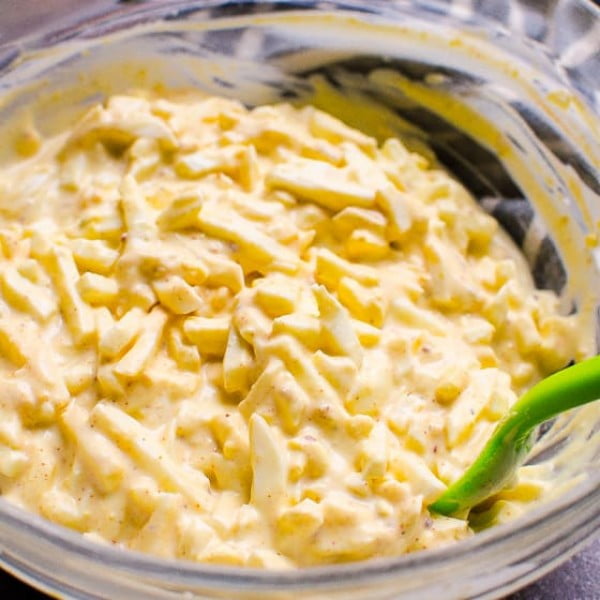 Healthy Egg Salad with Greek yogurt, almost no mayo, mustard and that's it. This egg salad recipe is silky smooth, full of flavor and makes the best 5-minute healthy sandwich.
Tomato Pasta Salad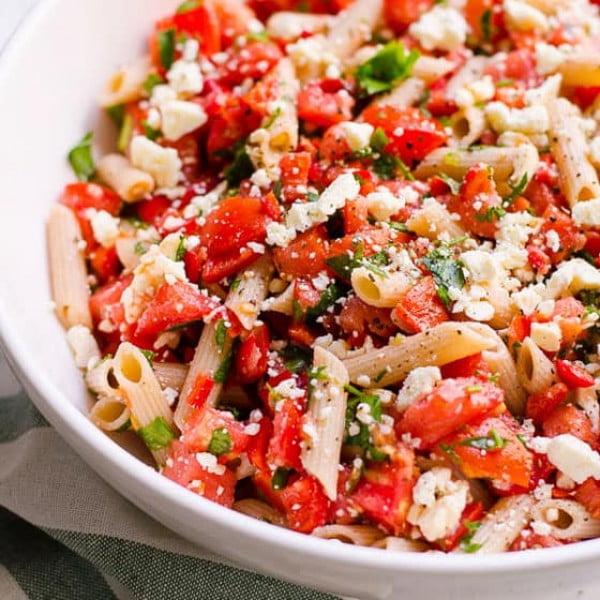 Tomato Pasta Salad Recipe made healthy with whole wheat or gluten-free pasta, tomatoes, bell peppers, feta cheese, fresh parsley or dill, and garlic.
Tequila Lime Salmon Salad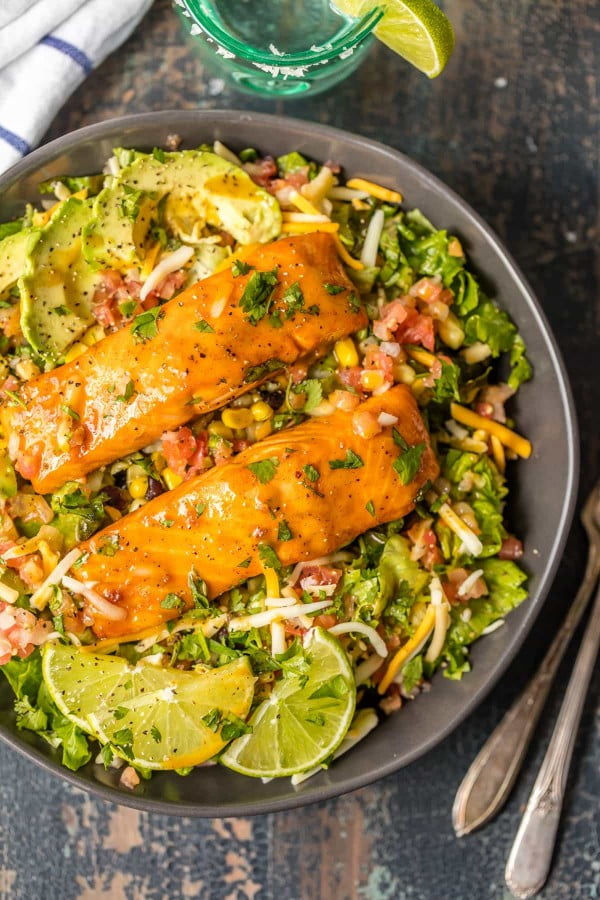 This is the perfect hearty and delicious salad for any occasion. Salmon topped with a spicy tequila lime marinade on a bed of lettuce.
Tropical Coconut Chicken Salad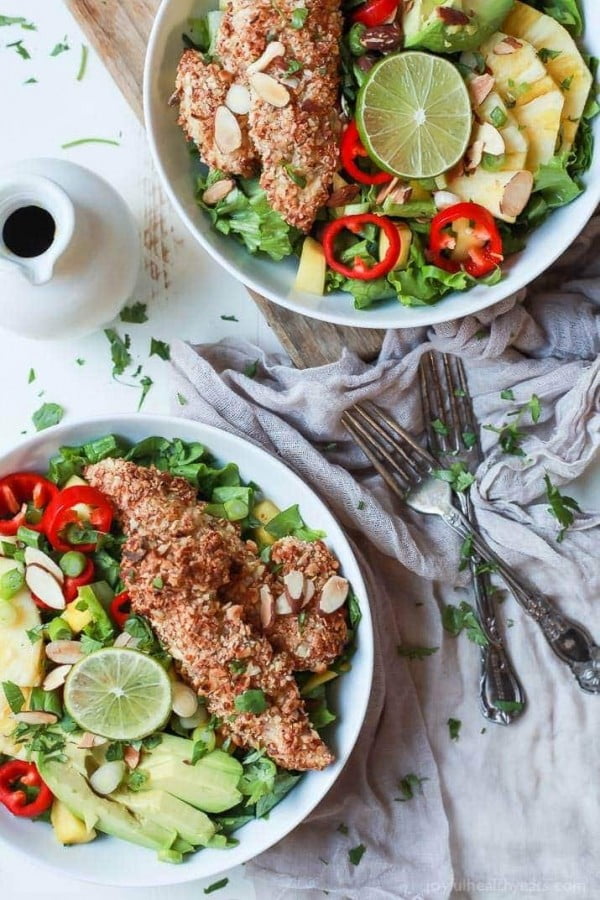 Change up your salad game a Tropical Coconut Chicken Salad recipe filled with fresh exotic fruits and homemade Almond-Coconut Crusted Chicken Tenders.
Thai Chicken Zucchini Noodle Salad with Sesame Vinaigrette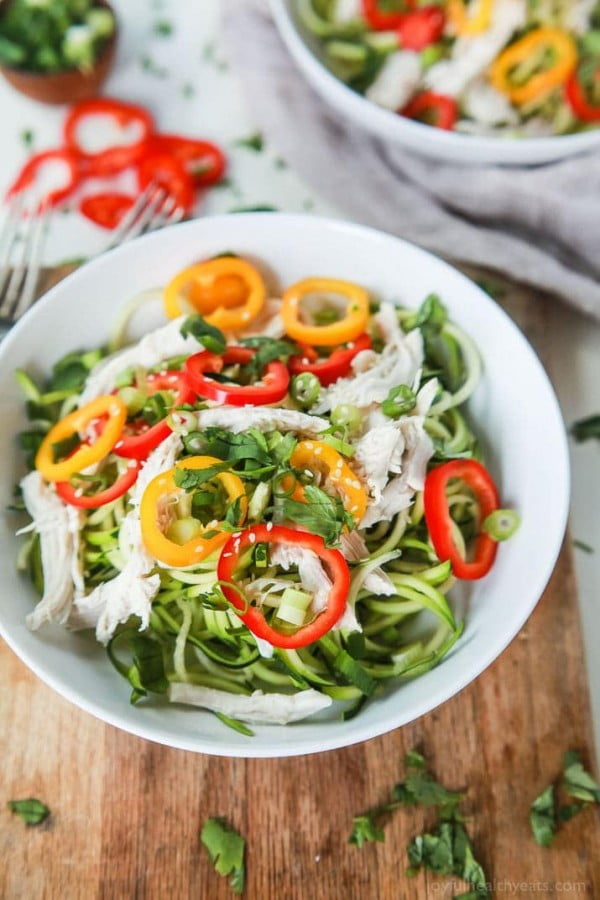 Thai Chicken Zucchini Noodle Salad with a Sesame Vinaigrette done in 15 minutes and only 324 calories. This salad is served cold with raw zucchini noodles; it is refreshing, light, filled with bold flavors and perfect for the summer.
BBQ Chicken Salad with Creamy Ranch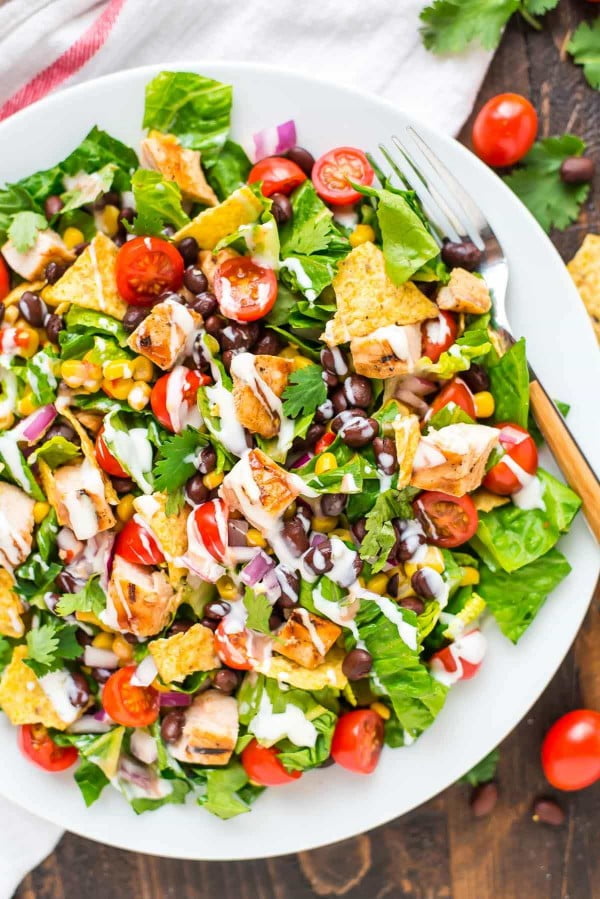 This fresh, filling BBQ Chicken Salad is quick to make and a family favorite. With juicy grilled chicken, black beans, tortilla chips, and creamy ranch.
Grilled Chicken Caesar Salad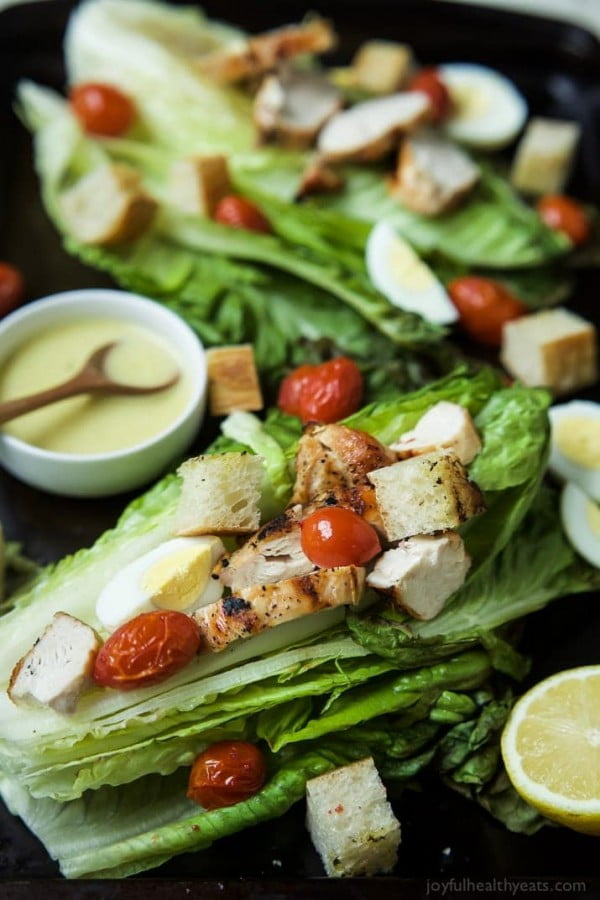 Grilled Chicken Caesar Salad with a Light Caesar Dressing that is egg and anchovy free. This Salad takes 15 minutes to make, is 289 calories a serving, and you can't beat that dynamite grill flavor infused throughout this dish!
Asian Nicoise Salad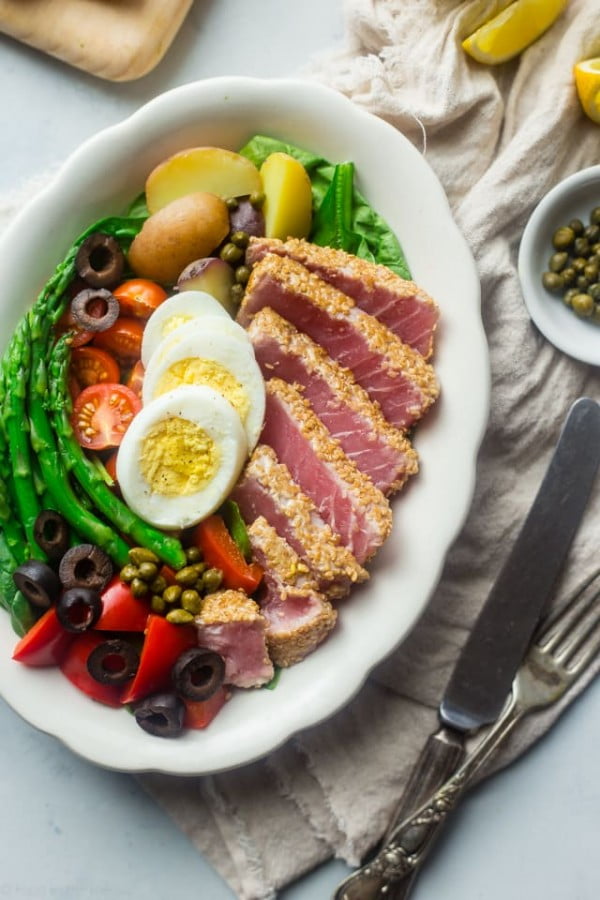 This Asian Nicoise Salad is a healthy spin on the classic that uses a sesame ginger vinaigrette and seared tuna steaks for a healthy paleo-friendly meal.
California Steak Salad with Chimichurri Dressing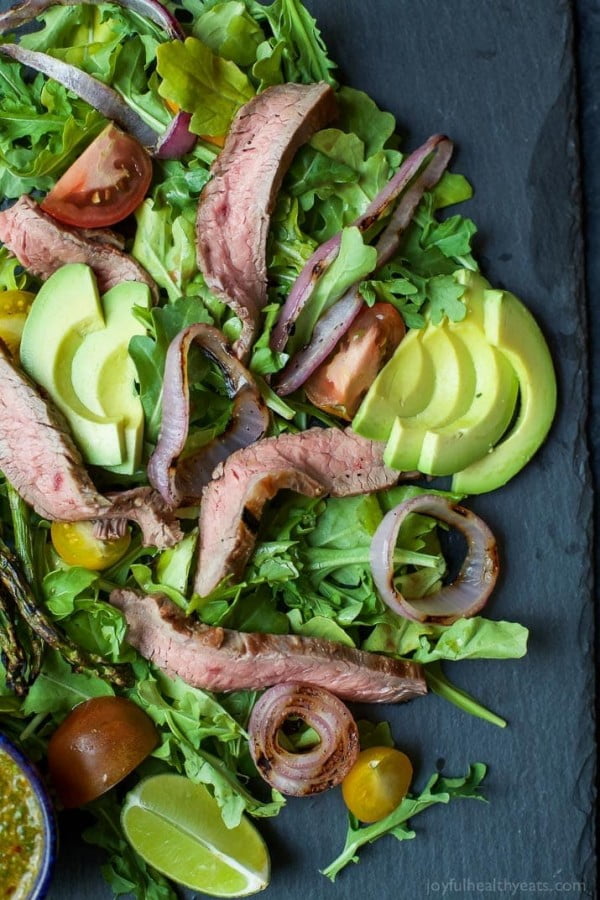 A paleo California Steak Salad filled with grilled onions, arugula, avocado, asparagus, charred Steak and covered in zesty Chimichurri Dressing. Fresh, light, high in protein and delicious.
This Greek Salad Will Make You Feel Like A Goddess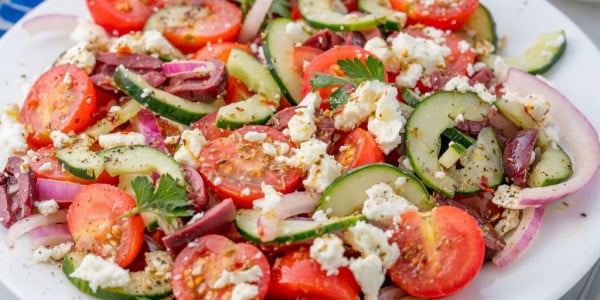 Check out this delicious Greek salad that will make you feel like a goddess. Follow this link for the complete recipe.
Style Cobb Salad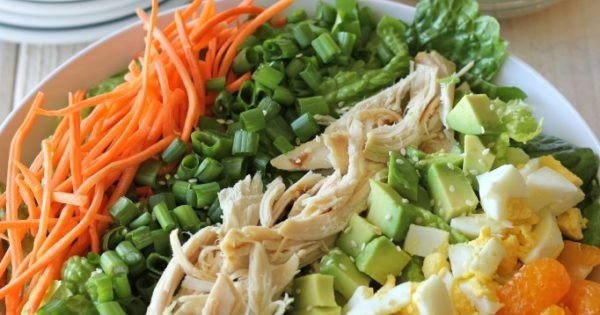 This salad serves as the perfect light meal, full of protein and veggies with a simple sesame vinaigrette. See this link for the cooking method.
Bacon and Avocado Macaroni Salad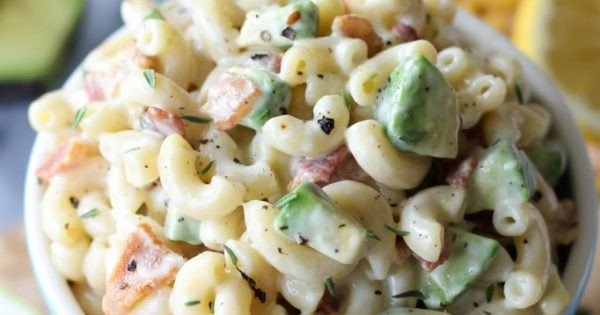 A simple macaroni salad loaded with fresh avocado and applewood smoked bacon tossed in a lemon-thyme dressing – the best macaroni salad I've ever had. See the link for the complete method.
Charred Zucchini Sweet Corn Mexican Salad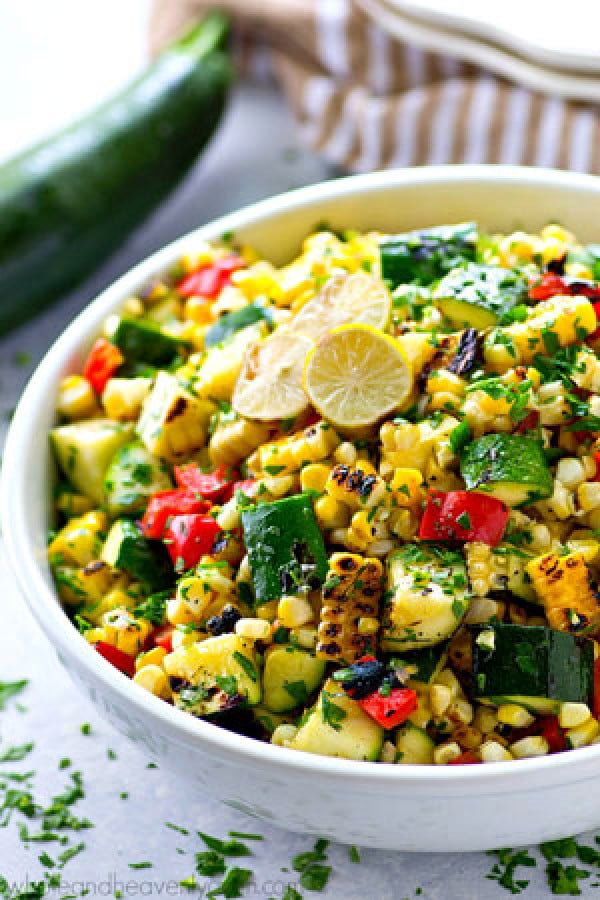 Smokily grilled zucchini, charred sweet corn, and tons of other Mexican goodness collide in this loaded Mexican salad that's a perfect way to eat your salad.
Grilled Romaine, Corn and Chicken Salad with Salsa Dressing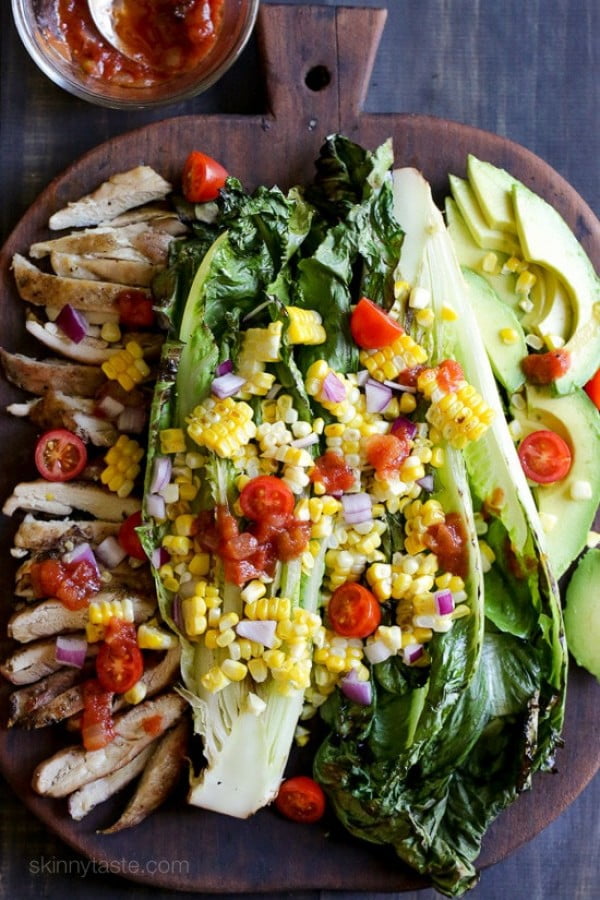 An EASY 15-minute dish you'll want to make all summer long. Fresh heads of romaine lettuce are split down the middle, grilled until slightly charred and smoky, along with sweet corn and skinless chicken thighs, then topped with tomatoes, onions, avocado, and a simple salsa vinaigrette.
Avocado Shrimp Salad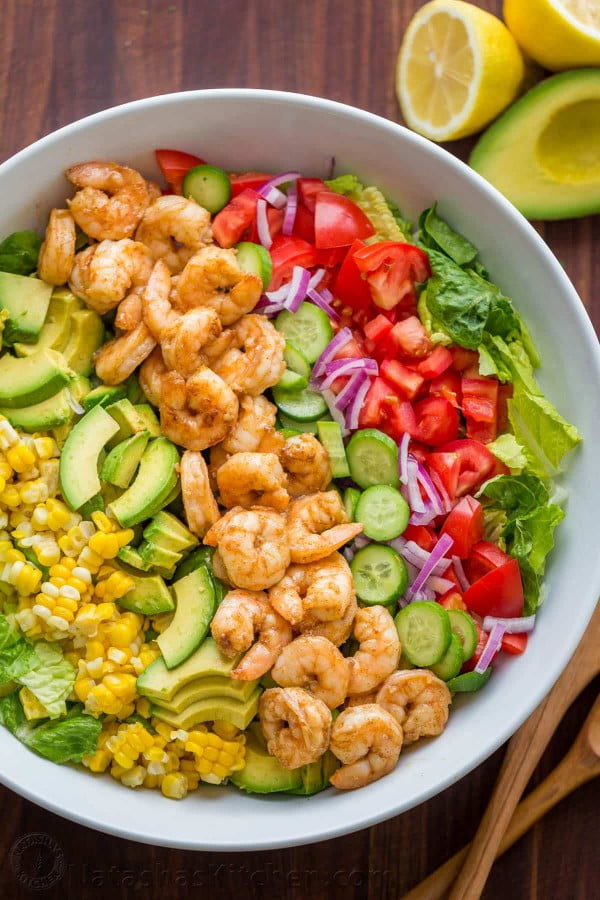 Avocado Shrimp Salad Recipe with cajun shrimp and the best flavors of summer. The cilantro lemon dressing gives this shrimp salad incredible fresh taste.
Mango Mandarin Sesame Shrimp Salad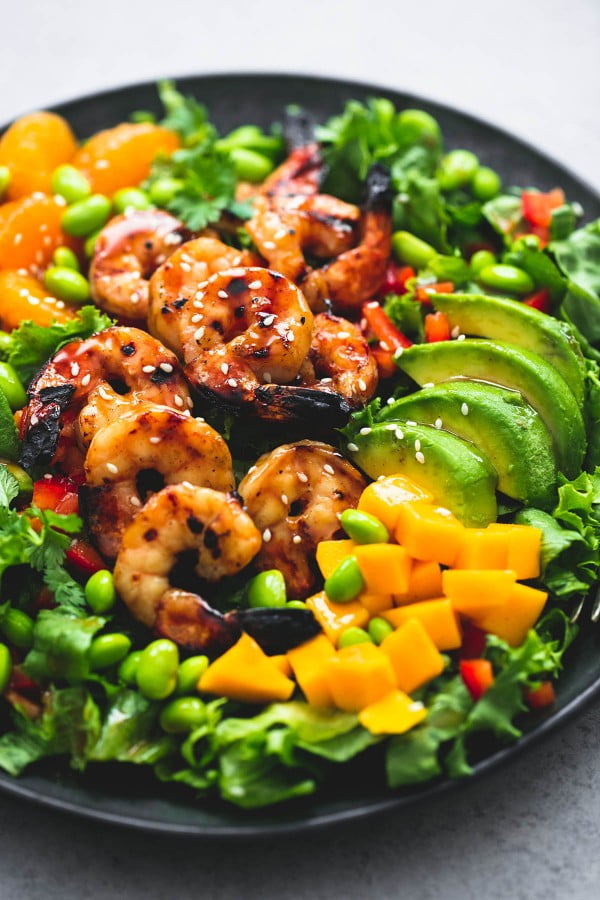 Big, bold Asian flavors bring this mango mandarin sesame shrimp salad to life and make it a hearty, yet simple and healthy dish!
Grilled Teriyaki Chicken Salad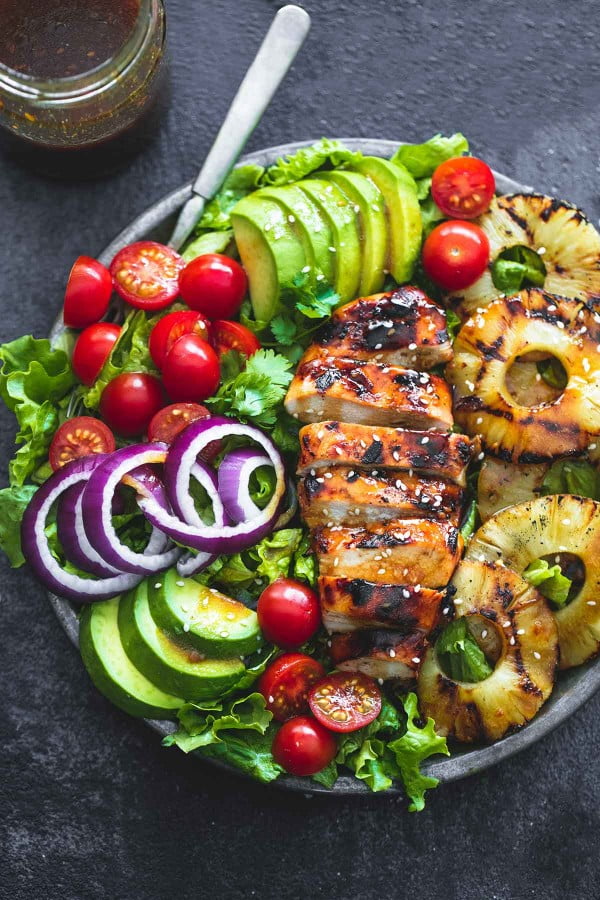 Grilled pineapple, avocados, cilantro, and the BEST teriyaki vinaigrette turn this easy grilled teriyaki chicken salad into a hearty and tasty meal.
Ahi Tuna Poke and Mango Salad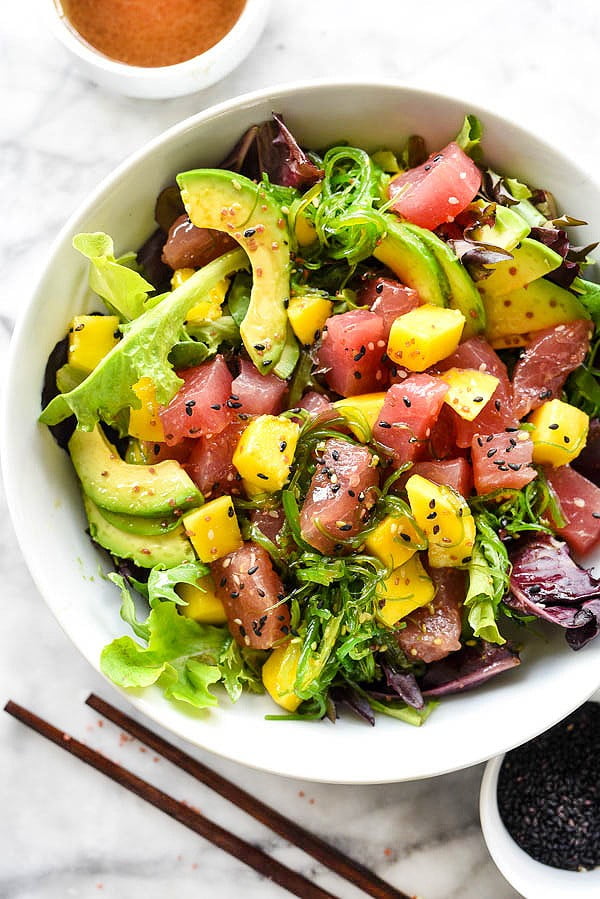 A simple three-ingredient dressing tops fresh ahi tuna, mango, and avocado on a bed of spring mix in this flavorful Asian salad, perfect for lunch or dinner.
Asian Cucumber Salad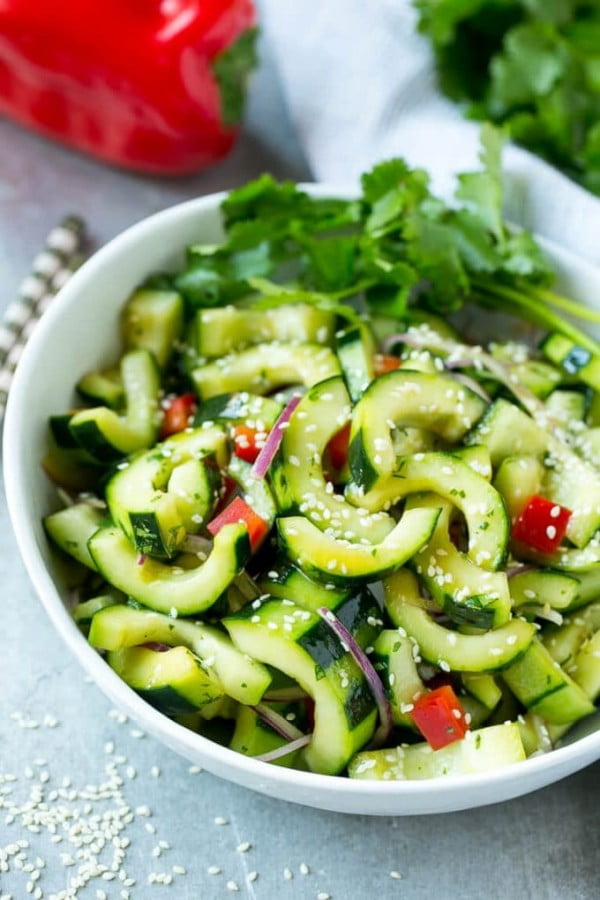 This recipe for Asian cucumber salad is cucumbers and colorful veggies tossed in a zesty sesame dressing. The perfect quick and easy side dish.
Chopped Greek Salad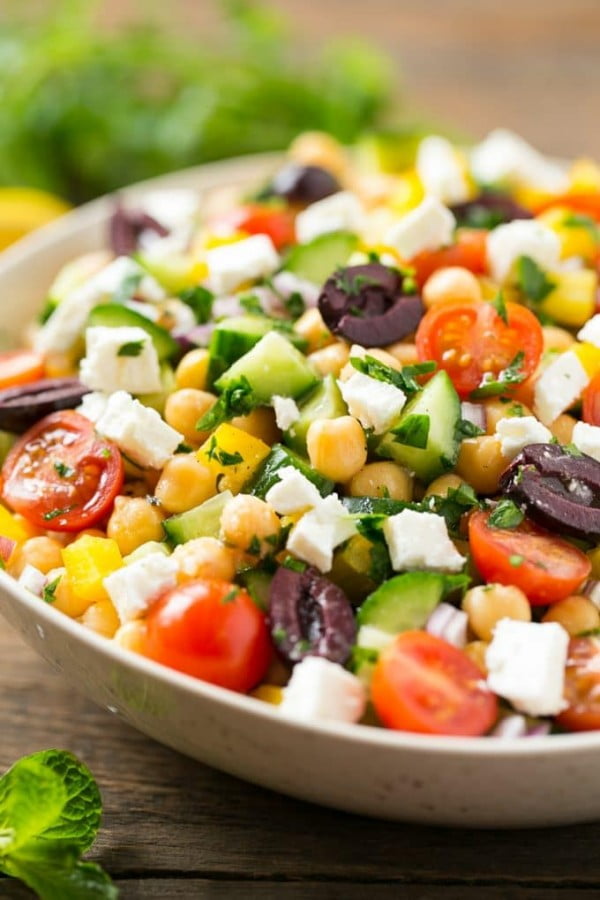 This recipe for chopped greek salad is a variety of fresh vegetables with chickpeas, feta cheese & olives; all tossed in a classic lemon and herb vinaigrette.
Grilled Chili Lime Chicken Fajita Salad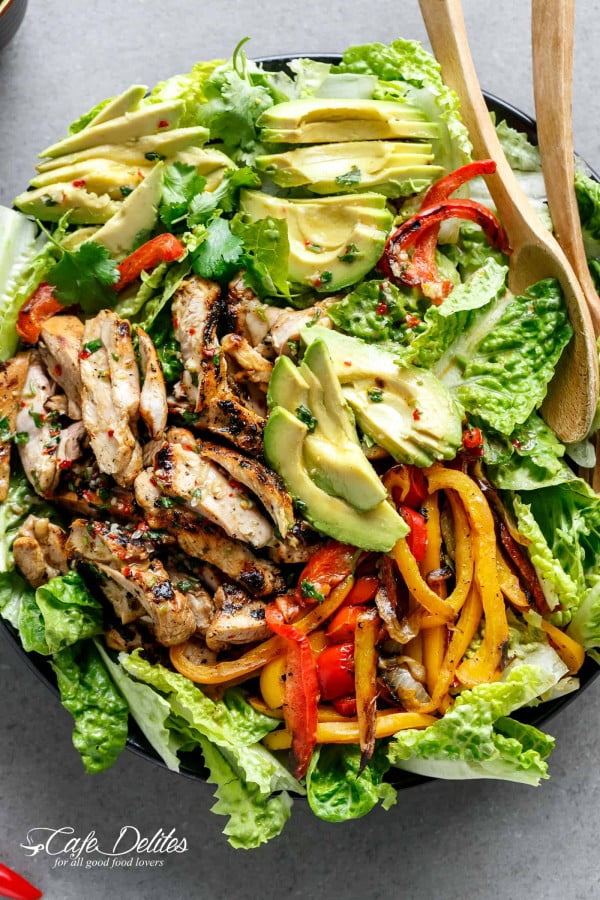 Grilled Chili Lime Chicken Fajita Salad with a dressing that doubles as a marinade. A genius way of keeping all of the incredible flavors in this salad.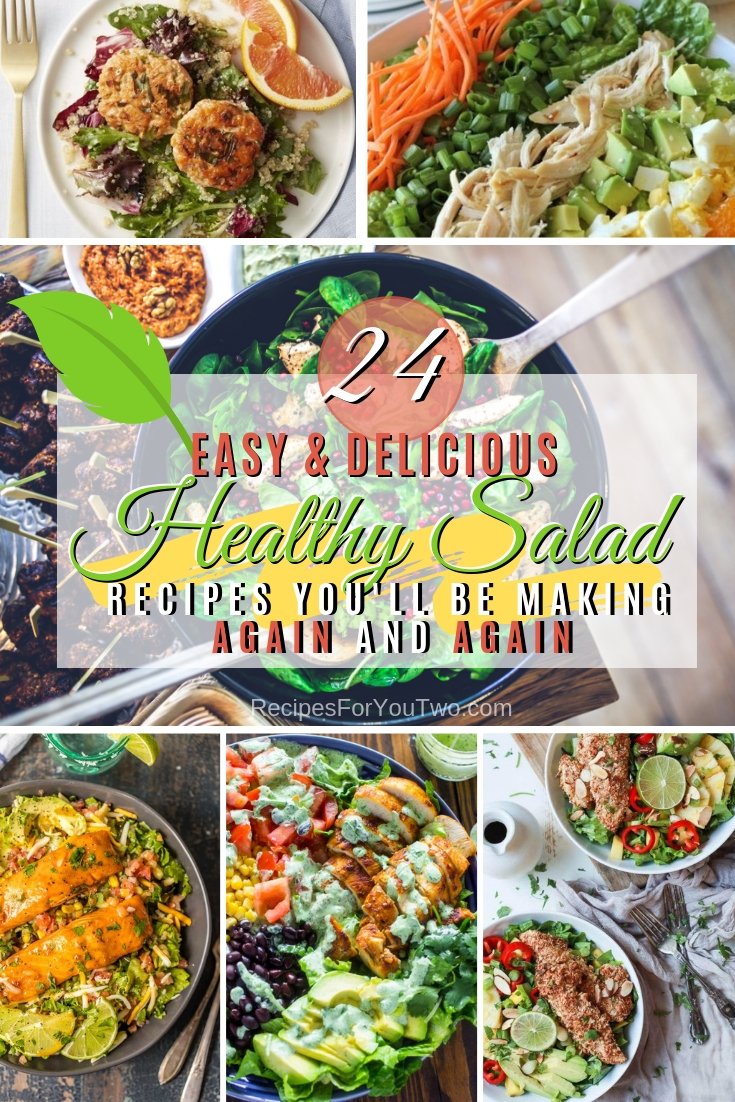 Continue reading: