Last updated on December 13, 2022
For those who want to enjoy a delicious and hearty meal, but do not want to consume meat, this vegetarian meatloaf is a great option. It is an excellent source of protein and other essential nutrients, and it is also an easy and quick meal to prepare.
Vegetarian meatloaf is made with a combination of various vegetables, spices, and herbs. Depending on the ingredients used, you can turn it into a savory, spicy, or even a sweet dish.
In This Post
Make Sure You Use Only the Finest Ingredients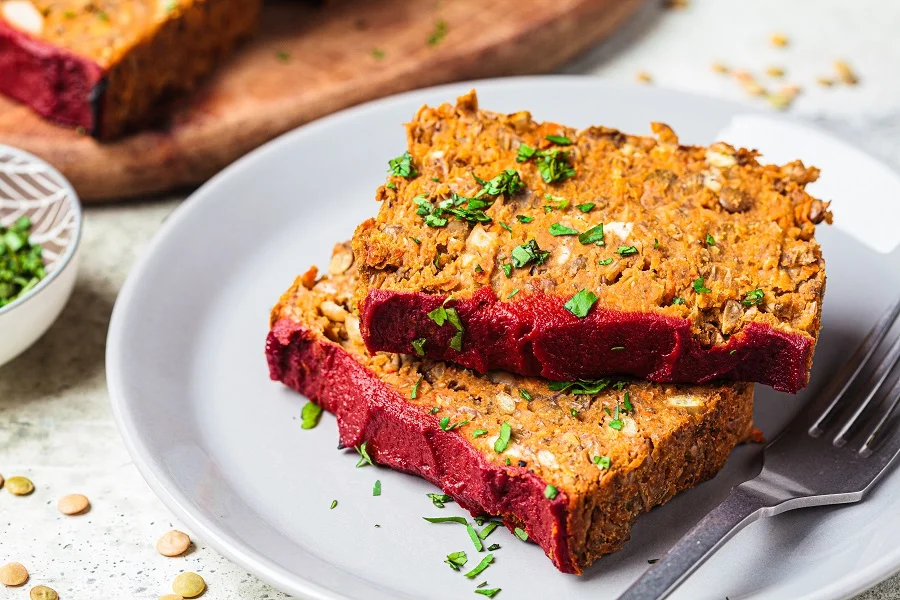 To make a vegetarian meatloaf it is important to choose the right combination of vegetables, beans, and grains, to ensure that the dish is full of flavor and texture.
The vegetables can be diced or grated, and then combined with the other ingredients, such as cooked grains and beans, nuts, and seasonings. The mixture is then shaped into a loaf and baked in the oven until it is cooked through.
Some of the preferred vegetables to use for a vegan meatloaf are:
Bell pepper.
Mushrooms.
Garlic.
Carrots.
Lentils.
Green peas.
Brown rice.
Quinoa.
Tempeh.
Tofu.
Beans
Once the vegetarian meatloaf is cooked, it can be served with a variety of accompaniments, such as mashed potatoes, pasta, or a salad. It can be served as is, or sliced and topped with a tomato-based sauce.
It is also a delicious addition to a sandwich, wrap, or burger. Vegetarian meatloaf is a versatile dish that can be enjoyed for lunch, dinner, or even as a snack.
A Typical Dish Became Vegan
Vegetarian meatloaf is a delicious and satisfying vegan alternative to its traditional beef or pork counterparts. Vegetarian meatloaf is a flavorful and nutritious dish that can be enjoyed by meat-eaters and vegetarians alike.
Whether you are looking for a hearty and healthy meal, or just want to try something new, vegetarian meatloaf is an excellent option. It is easy to make, full of flavor, and sure to be a hit with the whole family. Give vegetarian meatloaf recipe a try, and see how this vegan dish can be a new family favorite!
Tasty and Delicious
Vegetarian meatloaf is a tasty and delicious dish that can be enjoyed by everyone. It is an easy and quick meal to prepare, and it is also a great way to get some of the same flavors and textures that you would find in a traditional meatloaf, without the added fat and cholesterol and other unhealthy ingredients. If you are looking for a hearty, healthy meal that is also vegan-friendly, this is it!
An Easy Vegetarian Meatloaf Recipe
Ingredients:
2 cups of cooked quinoa (lentils or green peas are good too).
1 cup of diced carrots.
1 cup of diced celery.
1 cup of diced onions.
1 cup cooked of black beans.
1 cup of chopped walnuts.
1/2 cup of tomato sauce.
2 tablespoons of olive oil.
1 tablespoon of Italian seasoning.
Salt and pepper to taste.
How to Prepare It
Preheat the oven to 350°F (180 C).
In a large bowl, combine the quinoa, carrots, celery, onions, black beans, and walnuts.
In a separate bowl, mix together the tomato sauce, olive oil, Italian seasoning, salt, and pepper.
Add the wet ingredients to the dry ingredients and mix thoroughly until combined.
Take a large enough baking pan and oil it lightly (even if non-sticking, oiling is recommended).
Shape the mixture into a loaf and place on the baking pan.
Put it in the preheated oven and bake it for 35 minutes, or until cooked through.
Take it out and let cool for about 5 to 10 minutes before serving.
Final Tips
Vegetarian meatloaf can be served as is, or sliced and topped with a tomato-based sauce. It can be accompanied with mashed potatoes or any fresh salad.
If you want to enjoy it warm, you may sprinkle some feta cheese on top, to add more flavor.
It is also a delicious addition to a sandwich, wrap, or burger. In this case, it's best to put it into the fridge for 2 to 3 hours, since cold temperature will help it to become more compact and it will not crumble when cutting it into slices.
This vegetarian meatloaf will last up to 5 days in the fridge, better if kept in an airtight container.
You may also want to freeze it in a freezer-safe container -or wrapped up with aluminum foil- and it will last for 2 to 3 months. Before reheating, it is best to let it thaw overnight in the refrigerator.
You can reheat it in your normal or microwave oven, taking care not to overcook it.
Continue reading: