Last updated on January 20, 2023
Exotic food, Mariachis, Tacos, Pyramids, Tortillas, and Chili… Do you know where you can find all of those things together? Yes, the right answer is Mexico!
Not many places in the world can be as proud of their own culture as Mexicans are. This country's culture is filled with colors, music, food, and joy.
No wonder why Mexico is one of the favorite destinations for tourists around the globe and its peculiar gastronomy has been declared an Intangible World Heritage by UNESCO.
In This Post
A Vibrant and Colorful Cuisine
One of the biggest attractions of the land that gave birth to rancheras and La Bamba, is the product of their very own culinary traditions. Food in Mexico can be described with a lot of adjectives, but one of the most accurate definitions is "vibrant".
You should know that many of the flavors, sights, and sounds of authentic Mexican food come from three main Mexican cultures: Mayan, Aztec, and Spanish, with the latter being the most represented.
Mexican cuisine is a valuable collection of dishes and ingredients. Tasting each of the typical dishes of Mexican food is to travel from pre-Hispanic times to the new flavors that arrived with the Conquest, seasoned with spices brought from Asia and Africa.
How to Make Your Own Crispy Tacos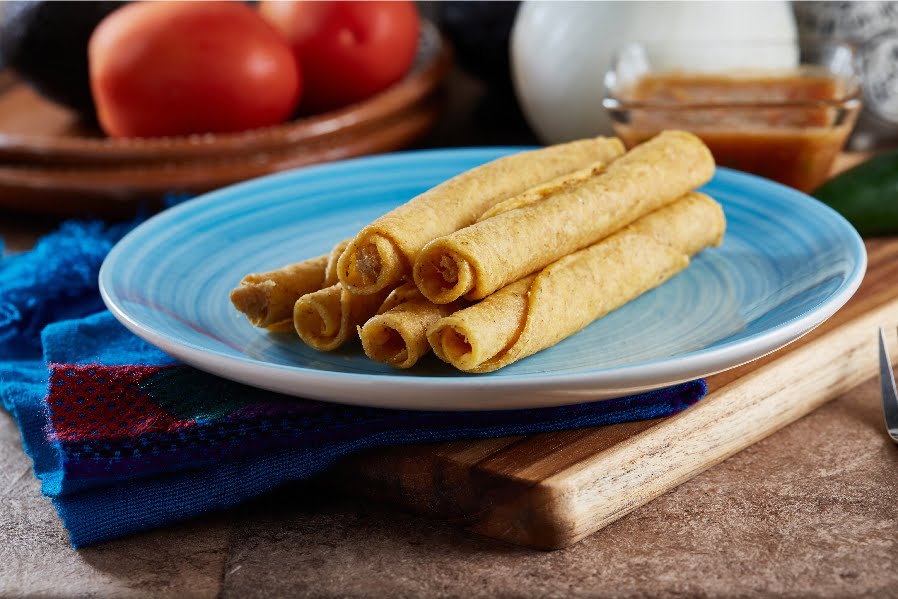 Corn is one, if not the most fundamental ingredient in Mexican Gastronomy, and there is a good reason for that, Mexicans love to eat Tortillas. They can eat them in so many different ways with so many different fillings, which is the reason there are so many tortilla-based dishes throughout the country.
Taco is one of Mexico's representative dishes. The taco is based on a tortilla, usually made of corn, which can be filled with a variety of foods such as meats, sauces, and sausages.
Rice and Beans Tacos Dorados
The traditional recipe for tacos dorados consists of fried corn tortillas filled with shredded chicken, beef, or potato. They are complemented with a layer of cream, cabbage or lettuce, salsa, onion, and fresh cheese.
Each region of Mexico has given them its original touch, as you can find delicacies with cochinita pibil, barbecue, or simple refried beans.
Being rice a staple food anywhere in the world, it is obvious that Mexicans would make a taco filled with rice. For this recipe, rice and beans would be used for the filling. If you want to read more about it, go to https://mahatmarice.com/recipes/rice-and-beans-tacos-dorados/
Ingredients:
Tacos Dorados:
1 cup White Rice.
16 medium corn tortillas.
1/3 cup canola oil, divided.
1 onion, diced.
3 cloves garlic, minced.
2 tablespoons canned chipotle in adobo, finely chopped.
1/2 tsp. salt.
1/2 tsp. black pepper.
2 cups reduced-sodium vegetable broth.
1 can (15 oz) pinto beans.
1 cup Monterey Jack cheese, shredded.
1 cup cotija cheese, shredded.
2 cups rotisserie chicken, shredded.
Avocado cream:
2 ripe avocados, cut into slices.
1 cup sour cream.
2 tablespoons fresh cilantro leaves
1/4 cup lime juice
Black pepper to taste.
Ground cumin to taste.
Salt to taste.
Preparation:
Heat the oven to 425°F. In a large saucepan over medium heat, add the oil; cook onion, chipotles, and garlic for 3 to 5 minutes. Mix with rice and cook for 2 to 3 minutes.
Bring to a boil over high heat after pouring the broth. Cook for 20 minutes. Set aside and cover for 5 minutes.
Puree the beans until smooth in a food processor. Then, add the Monterey Jack and cotija cheeses. Blend once more until smooth.
Spread 1/4 cup of the bean mixture in the center of each tortilla. Cover the bean layer evenly with the rice-chicken mixture. Roll up the tortillas tightly; place the tortillas on a baking sheet lined with baking paper, zipper side down. Use the remaining oil to brush it over the tortillas.
Bake for 10 to 15 minutes.
Continue reading: