Last updated on January 15, 2023
Is there anything better than having a delicious dish after a tiring day of work? Is there anything you enjoy the most apart from having a relaxing meal at weekends with some friends or your family?
If you, like me, are a foodie, keep reading this article because you are going to find out interesting information about a mexican fried rice recipe that will make your mouth melt.
If you relish eating but you feel cooking is not your thing, no worries! This recipe is so easy even amateurs can make it.
In This Post
What Does Rice Have That Makes It So Special?
Everybody knows Mexican cuisine is one of the tastiest around the globe. With its intense flavors and bright colors, Mexican cuisine has demonstrated to have exquisite dishes made out of local staples.
However, apart from being a basic Mexican staple, rice is one of the best-known ingredients around the world. It is present in several different countries' cuisines.
The reason why rice is so frequently used to prepare diverse dishes worldwide has to do with the fact that it is very easy to cook, it pairs a huge variety of ingredients perfectly well and it just takes a couple of minutes to be ready.
What Is Mexican Fried Rice?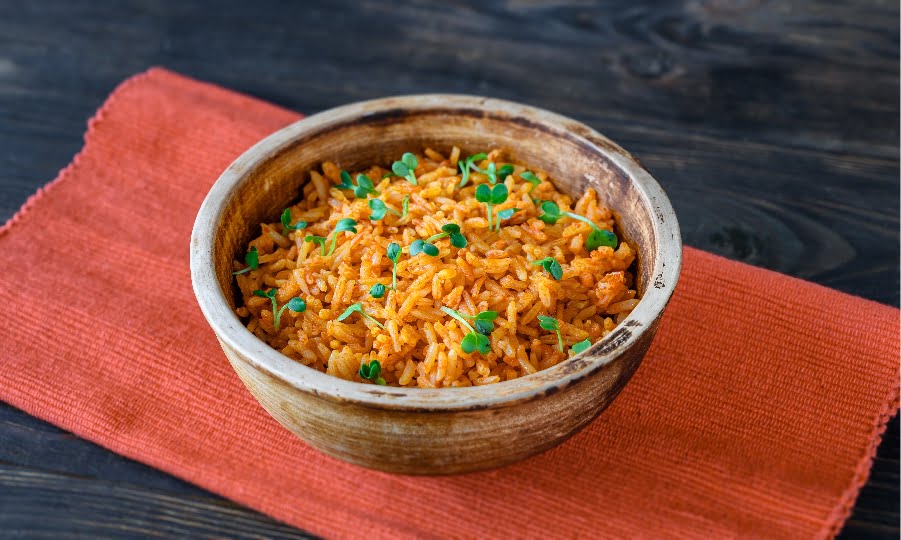 Also referred to as Spanish rice, arroz a la mexicana or arroz rojo, Mexican fried rice is a Mexican side dish made from white rice, tomato, garlic and onion as the basic ingredients.
There may be some changes introduced to this recipe, for example, by adding some other vegetables.
Do you fancy a Mexican fried rice pot?
If you love Mexican cuisine, or if you are willing to cook a tasty dish to pamper your loved ones, this recipe is definitely for you.
You are going to need
½ tablespoon of olive oil.
1 small clove of garlic.
1 small onion.
¼ red bell pepper.
½ cup of canned black beans.
½ cup of tinned corn kernels.
2 cups of cooked white rice.
What you are going to do
To begin with, you should chop all the vegetables before starting to cook to save some time.
After that, heat the olive oil in a pan set over high heat. Add the garlic and cook it for a couple of seconds.
Then, add the bell pepper and the onion and cook them for about 2 minutes. Add the black beans and the corn. Cook everything for just 1 minute to heat it through.
Finally, add the rice and stir quickly. Season the dish with salt and pepper and serve it immediately. Enjoy!
Cook's Tips
You can serve this dish with some tomato paste that will enhance the whole recipe flavor.
You can mix up 2 tablespoons of tomato paste, 1 tablespoon of water, a pinch of cumin, a pinch of chilly powder, a pinch of paprika and a pinch of oregano. It will make a huge difference!
If you love spicy food, you can always add just a few drops of Tabasco sauce to this dish to heat things a little bit more.
No matter if you are an experienced cook or if you are taking your first steps at the kitchen, this Mexican fried rice recipe makes everybody fall in love with it.
It is so flavorful and easy to cook that all your friends will want to know how you've made it.
So, what are you waiting for? Check if you have all these ingredients at home and let yourself –and your mouth– enjoy this delicious recipe!
Serve it with a glass of your favorite wine or a bubbling soda for the kids. Everybody is going to be delighted!
Continue reading: