Last updated on January 18, 2023
Coconut rice is a typical dish in many cultures. It is the preferred side dish or entrée in Thailand, South Asian, and Caribbean countries.
It shows the fresh and creamy flavor of coconut with a well-balanced touch of sugar and salt that perfectly complements hearty and seasoned meals.
Cooking coconut rice will take you no time or effort. So, after reading this post, run to the grocery store and buy all you need to prepare it for your next meal.
In This Post
What Exactly Is Coconut Rice?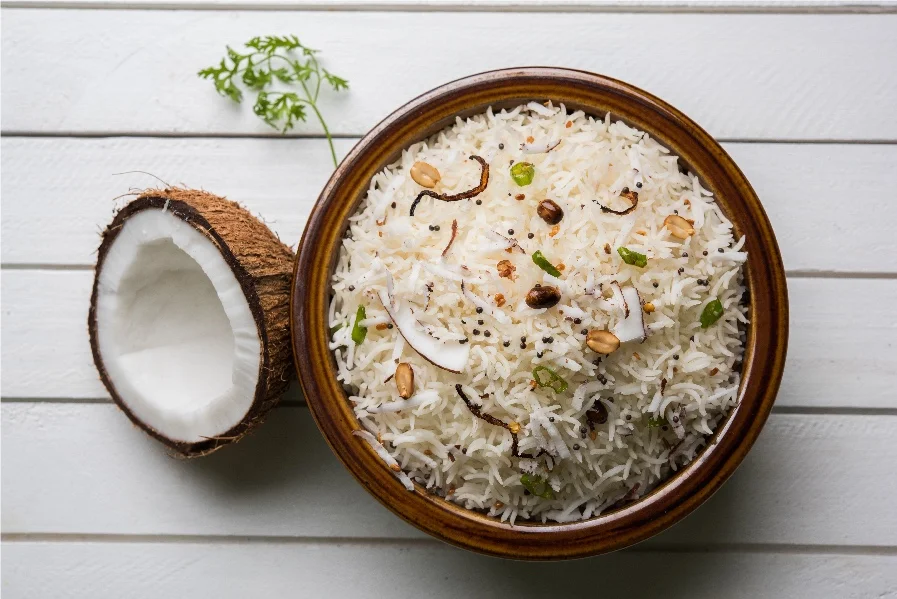 Classic coconut rice is a dish with white rice, coconut milk, and coconut flakes, topped with sesame seeds, chopped cilantro, or chopped shallots. It does not taste sweet; it is savory with nutty, buttery flavors.
Depending on the country, coconut rice has other flavors given by local herbs and spices. For example, in India, this dish includes coconut flakes toasted in sesame oil with paprika, nuts, and curry powder.
Additional ingredients in Puerto Rico's coconut rice are cilantro, garlic, onion raisins, and kumquats. In Honduras, this rice is cooked with onion, garlic, and black beans.
Not all coconut rice dishes are salty, there are sweet preparations served as desserts, breakfasts, or snacks. Thai coconut rice is sweet and served with slices of ripe mango and coconut cream.
In some Latin-American countries like Cuba, Colombia, and Venezuela, it is called Arroz con Coco. It includes whole milk, coconut milk, coconut cream, raisins, vanilla, sugar, and cinnamon.
A Recipe for Coconut Rice
If this is your first time preparing coconut rice at home, do not worry. Check this recipe https://mahatmarice.com/recipes/easy-coconut-rice/ and see how easy it is to do it in various ways.
For extra help, read the following recipe and compare the different techniques to cook a delicious coconut rice dish.
Classic Coconut Rice
Ingredients (4 servings):
2 cups of jasmine rice.
1 can of coconut milk.
1 ½ cups of water.
½ teaspoon of salt.
1 teaspoon of sugar.
Chopped cilantro for garnish.
Preparation:
Rinse rice with water several times until it is clear. Drain the excess water.
In a pot, pour coconut milk, water, sugar, and salt. Stir very well.
Add rice and cook until the mixture boils.
Reduce heat, cover, and simmer for 15 minutes.
When the rice is tender, turn off the heat.
Let rice stand for 10 minutes.
Serve with chopped cilantro at the top.
Make Your Own Version of Coconut Rice
This is the easiest recipe for making a traditional coconut rice dish. You can customize it by adding other ingredients like vegetables, fruits, herbs, or spices.
Here there are some ideas:
Pineapple.
Mango
Onions.
Bell peppers.
Avocado.
Thai basil.
Chives.
Tips for Making Fluffy Coconut Rice
As with all rice recipes, there are some tips to make a perfect rice dish. Coconut rice is not an exception.
For making a fluffy and flavorsome preparation, remember these recommendations:
Use long-grain rice. Jasmine or basmati rice would be ideal.
Rinse rice to remove the excess starch.
Add full-fat coconut milk for a creamier dish.
If you want sweeter rice, add 1 more teaspoon of sugar.
Fluff rice with a fork to separate the grains.
For a crunchier texture, sauté rice with coconut oil before adding coconut milk and water.
What Goes Well with Coconut Rice?
Once you try coconut rice at home, you will not cook any more plain white rice. It is so delicious, fresh, and easy that it will be your preferred side dish for most of your meals.
Coconut rice is the perfect complement for any dish, particularly those with sauces and intense spices like:
Thai Red Lentil Soup.
Curry Chicken.
Thai Basil Chicken.
Garlic Shrimp Stir Fry.
Beef curry.
Lemongrass Chicken.
Salmon with Burst Tomato Sauce.
Steak Bowls.
Asian Pork Tacos.
Korean Meatballs.
Continue reading: